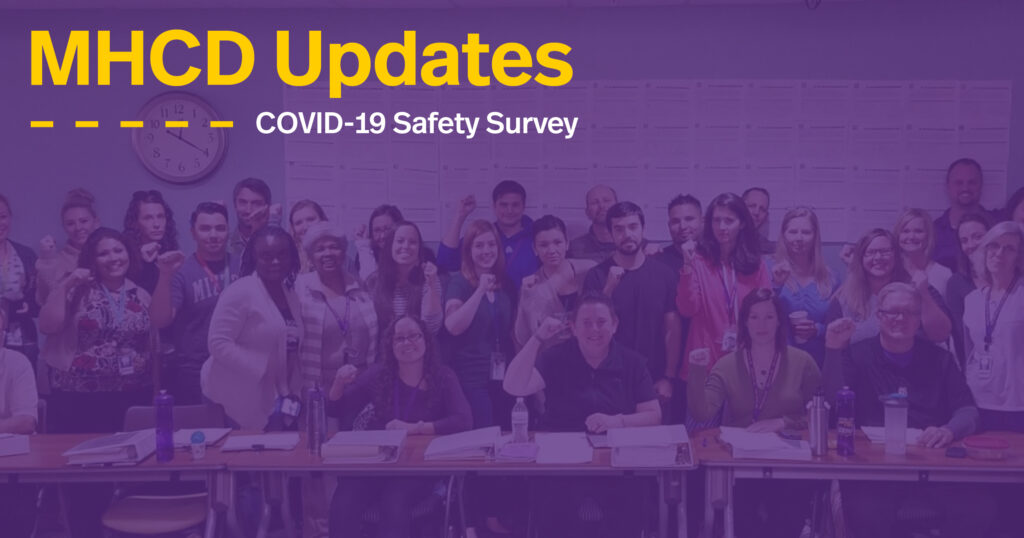 *Do you know a coworker who isn't receiving our email updates? Stay informed by visiting bit.ly/105Emails and update your email contact info!
May 5th, 2020
Nominations are now open for the bargaining committee!
*Please submit your nominees using this online form.
The nominations period will end on the 11th, so don't miss your chance to be heard. Submit yourself or your colleague as nominees to be on the bargaining committee this year. You know you want to! This is your chance!
COVID-19 Committee Updates!
Your colleagues on the COVID-19 committee have met with HR twice now to discuss the issues regarding the COVID-19 crisis. If you would like to participate in this conversation specific to the COVID-19 policies and protections, please respond to this email indicating your interest.
Some important things we have learned from these meetings:
MHCD reported to us repeatedly that it is not facing any financial shortfalls and is not considering reductions in staff hours.
Retaliation for speaking up is unacceptable. You should not be afraid to speak up and make sure you and the people you serve are safe.
HR has stated that there should not be pressure to prioritize productivity hours over the safety of you and the people you serve.
Management is open to hearing about our thoughts on essential workers pay for the essential workers who are required to work with the public or with clients.
If you feel that your manager or supervisor is acting in a way that is inconsistent with these statements, please share with the committee by filling out the online form here. That form can also be used for reporting any issues or concerns you have regarding management's response to COVID-19 for the committee to raise with HR.
The committee has raised concerns about the inconsistent and unclear manner that management has been sharing information regarding the policies and plans during the crisis. One request was to separate information specific to each department or job class with an additional source for general, organization-wide updates — and to send messages directly to employees rather than filtering it through middle management. This way, people will be able to access information relevant to their work and consistent across the organization.
You may have already received the text messages about it, but the union has obtained a number of masks to share with workers and/or the people you serve. Please respond to this email with a request if you are in need of masks.
The ongoing COVID19 crisis has led to workers across the country standing up and taking action to ensure their and the general public's safety. MHCD management has shared limited information with union stewards and staff on what measures have been taken to ensure the safety of workers, clients, and the public. Now is the time for you to come together with your coworkers and demand the protections, procedures, and practices you all deserve during this challenging period.
April 10th, 2020
Step 1: Make your voice heard by clicking here and completing our survey. The survey will be open now until Monday, 4/13, at Noon MST. Do note the survey is detailed and may take 30 minutes or more to complete. You can complete part of it and return to it later. You will also be sent a link to your responses once you submit the survey should you wish to edit or add anything before the time the survey closes. Responses will not be linked to your individual information, but we will share out overall responses and anonymized feedback.
Step 2: Join your fellow union members on Wednesday, 4/15, from 5 –6:30 PM for a virtual all MHCD 105 COVID meeting. We'll review the survey responses, brainstorm strategies for navigating workplace challenges, and, most importantly, roll out action steps to ensure you all win the changes you need and deserve.
SEIU Local 105 Zoom Meeting
Topic: MHCD All Member Union Meeting Time: Apr 15, 2020, 05:00 PM Mountain Time (US and Canada)
Join Zoom Meeting https://zoom.us/j/809893476?pwd=K3EwZ0dPdVlDNzdaeXdFakttTXVTdz09
Meeting ID: 809 893 476Password: 931013One tap mobile+13462487799,,809893476# US (Houston)+14086380968,,809893476# US (San Jose)
You all have a real opportunity to make history and stand up for the public good during this unprecedented crisis. How will you respond?
COVID-19 Resources and Information Updates
As a union, we are engaging at all levels to protect our members from the coronavirus and demanding action to protect the wages and income of our members, and all working people. Throughout this crisis, our union is still doing everything we can to assist and fight for our members. Please visit our website at seiu105.org for all COVID-19 resources and information and click on this link for our union-wide updates.