In 1939, SEIU Local 105 was founded as a union of Denver janitors. Now, eight decades later, over two thousand janitors across Colorado are united under a Master Contract, empowering workers to continue the fight for justice, better wages, benefits, and safer working conditions. 
Latest Property Services Updates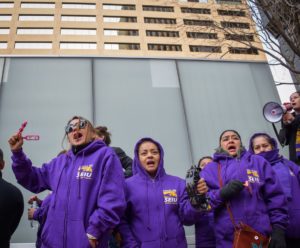 Commercial Cleaning Services, unfairly cut work hours for Denver janitors over the holidays. As a result, hundreds of families spent the holidays stressed and short a paycheck. ✊ Call CCS, 📞 (303) 733-8997📞 tell them to have a heart and treat janitors with respect.
Read More »