After three days of the largest healthcare worker strike in American history, we are overwhelmed by what we accomplished together. It's also clear that our hard work had a tremendous effect on the bargaining table, as management made huge concessions after months of stalling.
We are not done yet. Kaiser is still committing unfair labor practices, and they have not backed off their plan to outsource hundreds of Colorado revenue cycle jobs. They can't outsource their way out of the Kaiser short-staffing crisis. The only way to fix it is to invest in the workforce. 
We are back at the bargaining table on Thursday, October 12. We hope Kaiser will bargain in good faith to resolve this dispute once and for all. But we need them to understand we are standing behind our bargaining team and demanding an end to unfair labor practices.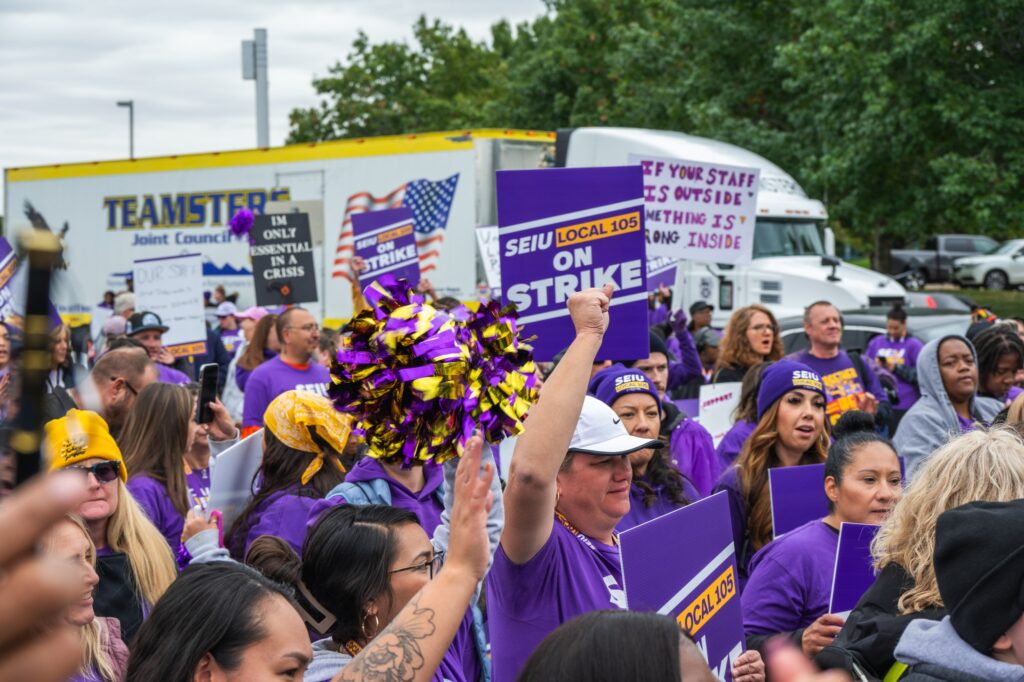 So today, unions in our Coalition are putting Kaiser on notice that if they do not bargain with us in good faith this week, we will strike from 6 am on November 1 till 6 am on November 8. This time, we would be joined by thousands more workers in Washington State, including the registered nurses.
Nobody wants to strike again. But sadly, we have seen that it takes being ready to strike for Kaiser to bargain in good faith.
We're going into bargaining this week UNITED, ready to bargain in good faith, and dedicated to showing Kaiser we are ready to do what it takes to win a strong contract.
Where We Stand Going Into Bargaining
On the second day of our unfair labor practice strike, we saw the impacts our actions were having on negotiations. Kaiser sent two new proposals on issues we have been asking about for months. They have agreed to almost everything we asked for on these issues – that's the power of our strike line.
WAGES: For the first time, Kaiser presented a unified raise proposal for ALL Coalition employees: 5%/5%/5%/4%.
PSP: We had several major goals in designing a more fair and reliable PSP.
Provide a minimum payout if we meet our goals. Kaiser now agrees that even if Kaiser does not meet its operating margin, we can earn up to $1200 if we meet our goals.
Protect the full value of the plan (which Kaiser was trying to slash dramatically). Kaiser now agrees that we can earn up to $2800 (based on goals) if they do make their operating margin, and up to $3750 (based on goals) if they exceed their enhanced operating margin by 2.5%.
Ensure any PSP attendance goal does not count legally protected leaves when measuring absences. Going forward, Kaiser has agreed to exclude vacation, ETO/PTO, holiday, legally protected leave like HFWA, FMLA, worker's comp leave and jury duty, educational leave, military leave, and union leave from any attendance goals. This is a huge improvement to the plan.
Why do you think Kaiser moved significantly on both of these issues? Our strike, of course! Kaiser only started to pay attention to our issues once we gave our strike notice, and now that they see what we can do, they are making a lot more movement. As we return to work and plan our November strike, we hope Kaiser will decide to bargain in good faith, take the outsourcing of the 1800 Coalition revenue cycle workers off the table, and provide the raises we need to recruit and retain quality staff and end the Kaiser short-staffing crisis.
Check out the complete side-by-side comparison of our proposals as they stand
now: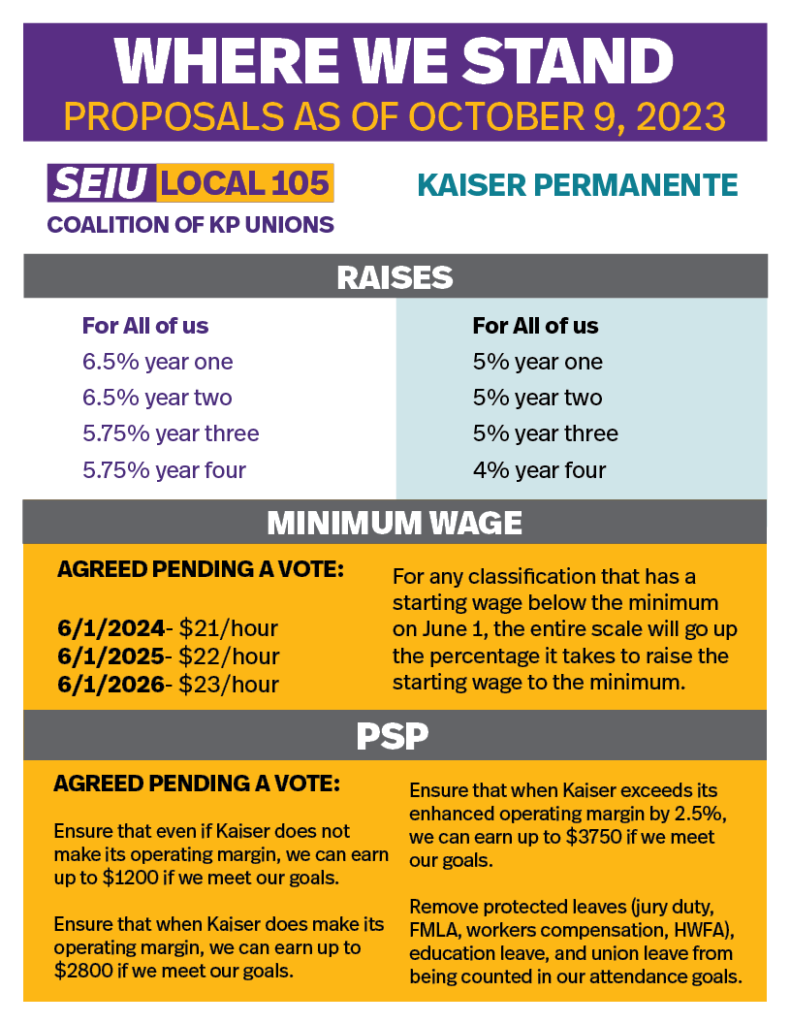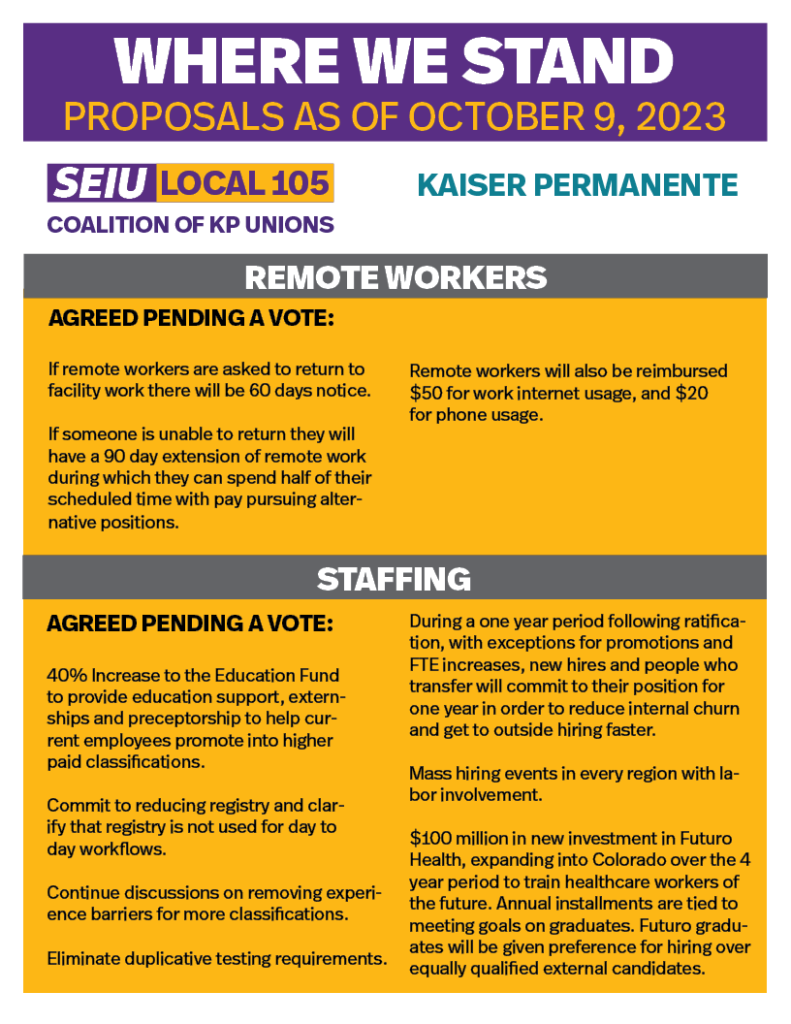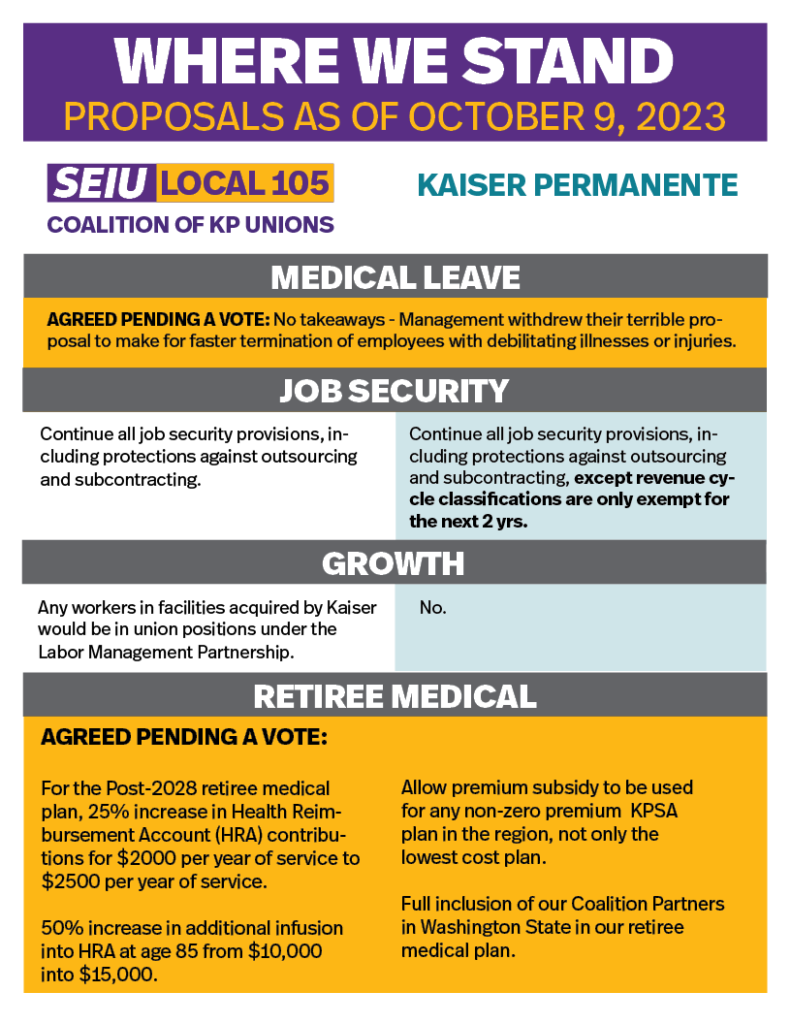 Please contact healthcare@seiu105.org if you have any questions.
Your SEIU Local 105 National Bargaining Team,
Stephanie Felix-Sowy
Paula Coleman
Shelly Fowlkes
Maria Jostes
Michael Howard
Donye Jackson
Patricia Johnson-Gibson
Jeannetta McCain
Darion Ross
Gina Ross