On Saturday, SEIU 105 partnered with our allies in the Rise Up Colorado Coalition (Colorado AFL-CIO, Colorado Education Association, Colorado People's Alliance, Colorado Working Families Party, Padres y Jovenes Unidos, Together Colorado, United for a New Economy, and 9 to 5). We held a caravan for a People's Comeback that saw hundreds and hundreds driving around the Capitol honking and waving signs in support of all Essential Workers. We also had Kaiser members, janitorial members, homecare workers, and airport members standing along Lincoln Street holding signs while wearing PPE and practicing social distancing.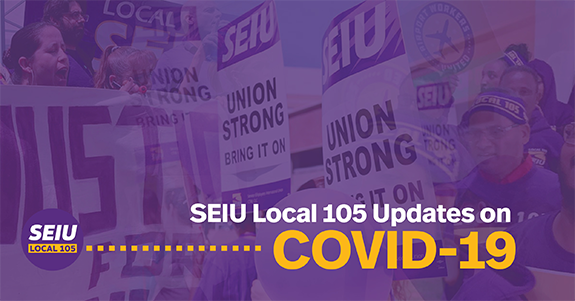 We demanded that all employers and our government must do more to provide PPE, paid sick leave, adequate testing, protection for workers who speak up and out about health and safety issues at work, rent and housing protections, and hazard pay. We highlighted that Coloradans are united—no matter the color of our skin or the size of our paychecks—in standing up for all workers to be safe at work.
But, we are also looking to the future. We called out that the economy wasn't working for most of us before the pandemic. We called for a new normal, an economy that works for all of us and not just the wealthy few and large corporations. 
We called for protecting union rights and growing unions, raising pay, and ensuring everyone have healthcare and paid sick leave. We made it clear that our goal isn't returning to normal, as that wasn't working for most of us stuck with too small paychecks and too big bills to pay. We all deserve an economy that cares for and works for all of us because it has economic and racial justice built-in.
Last week, we also distributed over 5,000 surgical masks that were donated and are continuing a plan to distribute 15,000 more. The massive response shows that still, today, too many working people lack adequate PPE. This is a moral outrage in the wealthiest country on the planet.
We are also holding politicians accountable to get what workers need. Last week, together we helped generate hundreds of calls to Sen. Cory Gardner because he hasn't done enough to support working people. We demanded that he support the Essential Worker bills that would ensure healthcare workers and other essential workers like those at the airport, janitors, and security officers would receive hazard pay and adequate PPE.
On Thursday, we are joining Colorado Wins to host an Essential Worker Action Telethon that will be streamed on Facebook Live, engaging all Coloradoans to take action and continue making calls to Sen. Gardner.
As I've reported in past updates, our members are organizing and fighting back. Through our union and at their worksites, our members are fighting for the personal protective equipment (PPE) they need, for paid sick leave for Covid-19 related issues, to prevent or mitigate hours reductions or layoffs, and on many other issues during this trying time. We've won numerous victories, but are continuing the fight where we haven't yet.
This is when unions are at our best: using our power to fight at work to get what we need, but also using our power to demand systematic change from those who make the rules at our State Capitol and in Washington DC to win for our members and all working people. The rules have been rigged against all working people—whether white, black, brown, or Asian American—for far too long.
But, history shows us that when we unite across our differences is when working, people win. This fact is why some wealthy special interests and certain politicians spend so much time and money trying to divide us. They know that unity is how we build enough power to win.
So, let's keep organizing and building our power at work, in our communities, and politically so we can fight and win. After all, one of our key rallying cries is, "When we fight, we win!" because it is true.
In Unity,
Ron Ruggiero
President
SEIU Local 105