Join Colorado Care Workers Unite and community allies on Tuesday, July 12th at 11AM, for Care Can't Wait!, a rally and march at our State Capitol demanding our elected leaders support essential, fundamental rights for home care workers in Colorado.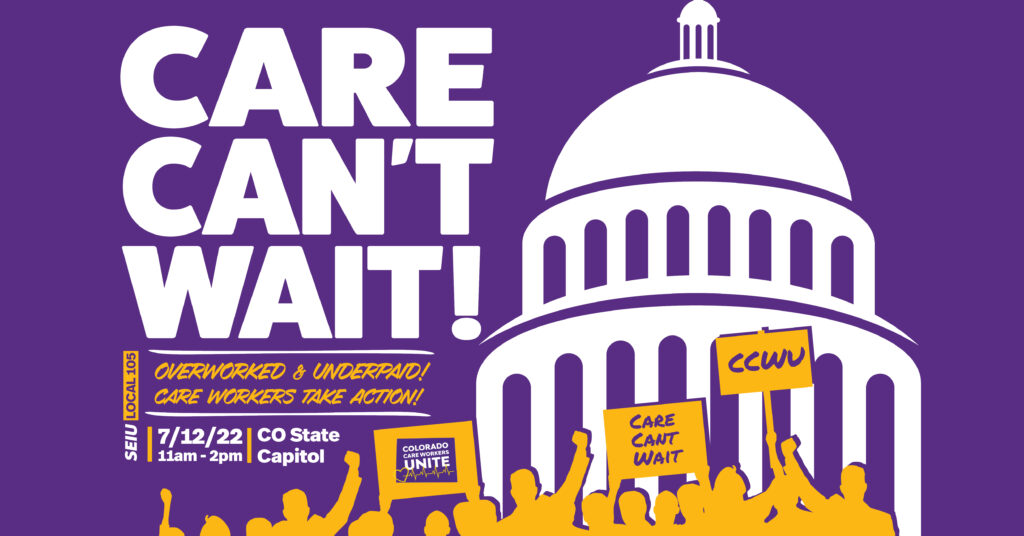 Across our state, home care workers, predominantly women, many women of color and immigrants, provide skilled compassionate care that allows seniors and Coloradans with disabilities to live with dignity. But many care workers in our communities are so underpaid that they struggle to keep a roof over their families' heads.
Low pay, unsafe working conditions, and a lack of a voice in their industry are driving workers away in record-high numbers, creating a dire care worker shortage. At the same time, Colorado's aging population, and the demand for care, is growing rapidly.
The way forward is clear: Care workers must have the power to come together to discuss our issues and have a voice in the solutions our industry needs to ensure accessible quality care for all Coloradans and quality jobs for those who provide it.

The time is NOW to address our care crisis in Colorado.