Click here to update your email and phone number to get the latest updates sent to your phone.
UPDATE 4 – 5/12/2023
Here is your update for the May session of National Bargaining with our 80,000-member-strong Coalition of Kaiser Permanente Unions.
This month's session focused on how to address the staffing crisis, discussing Kaiser's finances, and Kaiser's recent announcement to acquire Geisinger Health and start a new company called Risant.
Why the Geisinger Health Acquisition and the Creation of Risant Matters
We called Kaiser out on the acquisition they announced last month of a Pennsylvania medical group called Geisinger Health and the creation of Risant, a new healthcare company that Kaiser intends to use to buy up health systems. With the announcement, Kaiser not only failed to discuss this plan with its unions, but we learned that Kaiser's top leaders at the Medical Group weren't even involved in the deal!
Kaiser's behavior around the Geisinger acquisition has raised critical questions:
Is Kaiser going to use rate increases to pay for the acquisition?
Does it plan to start growing a non-union, non-partnership company within Kaiser that will create pressure to lower the standards of living for all of us?
If they didn't talk to their labor partners or even their doctors, what is it they're trying to hide?
No matter what comes out of the rest of bargaining this round, it is clear we have to be ready to fight:
We have to be strike ready and unified across our departments and facilities.
We have to be ready to take political action to raise serious questions about Kaiser's acquisitions, its impending rate increases, and the lack of transparency of its medical groups.
Kaiser Company & Employee Finances
Most of the second day of this session was spent on finances: Kaiser's finances, the finances of our pension fund, and the finances of the workforce in a time of unprecedented inflation.
Kaiser Finances. Kaiser CFO Kathy Lancaster and Senior VP Tom Curtin presented the challenges they see ahead in growing the membership, getting proper reimbursement for care, and managing rising expenses. Our coalition presented a counter perspective that emphasized Kaiser's incredibly strong financial position when viewed over the last five years and highlighted Kaiser's astounding investment income and management costs, spiraling executive compensation, and out-of-control payments to expensive outside contractors. Even though Kaiser lost money in 2022, it was an outlier, not the trend. Kaiser reported more than $21 billion in profit over the last five years, and their net worth doubled between 2018 and 2022 to $58.9B. Kaiser isn't a company that's struggling.
Pension fund. Some good news that came out of this dialogue was the reporting that the KP pension plan is fully funded for the first time in decades. This means we can feel more secure that when it comes time to draw on our pension and retirement that it will be there for us. We also asked for and received a commitment from KP leaders for greater transparency around both our pension fund and our 401K investments.
Employee finances. We also wanted to ensure that Kaiser management understood they are not the only ones who have to manage a budget. Every Kaiser worker is struggling to adjust their family budget to rising costs of living. Shamefully, Kaiser employs thousands of workers across the country who don't make a $25/hr living wage.
Watch this video addressing the need to raise wages featuring one of our SEIU Local 105 Kaiser members:
Addressing the Staffing Crisis
We also heard a report back from the labor-management task force that created after Kaiser committed to 10,000 new hires into Coalition vacancies by the end of the year. Subgroups will be meeting weekly through the end of June to address internal delays in the bidding and hiring system, market limitations for harder-to-fill classifications, collaboration about high-volume hiring opportunities, and providing union leaders in the facilities input into core staffing models.
We are United to Solve the Staffing Crisis
Our bargaining team is fully committed to solving the staffing crisis by raising healthcare worker pay, including a $25/hr minimum, fixing our broken hiring process, and making a massive investment in education and training.
Next week, May 22-26, we are joining Coalition Unions for a week of action to show Kaiser execs that we are UNITED to bargain for better staffing. Contact your organizers or local stewards to receive a button to wear during the week of action!
Next National Bargaining will be June 22-24.
Get the latest updates by visiting the bargaining update page on our website: https://seiu105.info/kpupdates23
---
UPDATE 3 – 4/20/2023
Here's your wrap-up from Day 3 of this KP National Bargaining opening session. After issuing our challenge for Kaiser to address the staffing crisis, we heard their answer today.
Kaiser has agreed to work with the National Coalition of Kaiser Permanente Unions on achieving the joint goal of hiring 10,000 new coalition employees by the end of 2023.
A national working team will be created to continue recommendations to reach this goal, and this team will report out at the next bargaining session on May 16th. This team will focus on addressing inefficiencies in the hiring processes, removing barriers, and reducing the time of internal bidding. The goal is to reduce the use of expensive contractors and fully staff all positions.
This is an encouraging step forward resulting from all of us speaking up and taking action across the region!
But this is just the beginning. We must keep up the pressure as we move to our next bargaining sessions in May, and continue to fight for a strong national agreement with industry leading wage raises for healthcare workers across the country!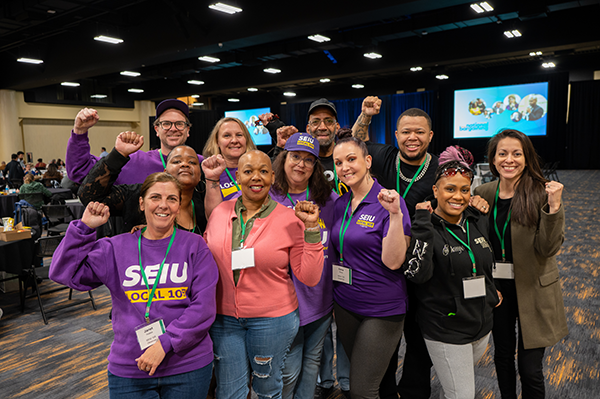 What's next?
Our next national bargaining dates are scheduled for May 16 – 18 in Los Angeles.
Coalition Unions' Week of Action from May 22-26. Contact your organizer for more information.
Stay updated!
Visit the KP section of our website to see updates from this sessions bargaining and important action dates!
Update your email address with our personal email to make sure you get the latest by clicking here.
Get the facts!
Download the Report: Crisis in Care
Find out what 33,140 allied healthcare workers at more than 100 medical facilities across California have to say about the most severe crisis in healthcare in more than 100 years.
Download the Report: Mental Health of Healthcare Workers
Healthcare professionals detail dire understaffing and mental health crises. See the facts and figures behind the staffing shortage crisis.
---
UPDATE 2 – 4/19/2023
Here's your update from Day 2 of this opening session of KP National Bargaining. The topic for today's discussions was staffing.
We've issued our first challenge to Kaiser mangement: Hire 10,000 new workers.
The biggest issue we have to solve at Kaiser is the chronic understaffing we face in our facilities. And Kaiser knows it too! They shared some eye-popping statistics with us:
11.1% of all Coalition positions are vacant
The average vacancy takes 80 days to fill (and that's just the average – we know it sometimes takes more than six months!)
Watch what your co-workers have to say about understaffing at Kaiser by clicking the video below.
So we presented a challenge to management: let's commit to an increase of 10,000 new Kaiser employees into Coalition positions by the end of 2023. We'll find out tomorrow what they say to that.
Kaiser Isn't Poor (Despite What They Say)
Management spent a lot of their time talking about what a bad financial year 2022 was for them. But here's the reality: Kaiser net worth is $58.9 billion and it made $20 billion in profits in the last five years. It's not a question of money. It's a question of priorities and values.
What's Next?
It's clear that our recent actions including the thousands who signed our Open Letter, selfie, and in-person actions have rattled Kaiser executives. We need to keep turning up the heat and letting them know we are ready to do what it takes to reach a strong agreement.

Stay tuned for more updates and actions in the days to follow.
---
UPDATE 1 – 4/18/2023
Today we kicked off National Bargaining with our over 85,000-member-strong Coalition of Kaiser Permanente Unions in Oakland, California! Your bargaining team was proud to represent the 3,000 Kaiser members in our union and region, and we're committed to bringing the concerns, thoughts, and real lived experiences of Colorado's frontline healthcare workers to the bargaining process.
On the first day, our very own SEIU Local 105, President, Stephanie Felix-Sowy, delivered the opening comments on behalf of our coalition. She outlined the crisis in care, the record number of healthcare workers leaving the industry, and the demands to raise wages and standards to meet the needs of our families and care for our patients.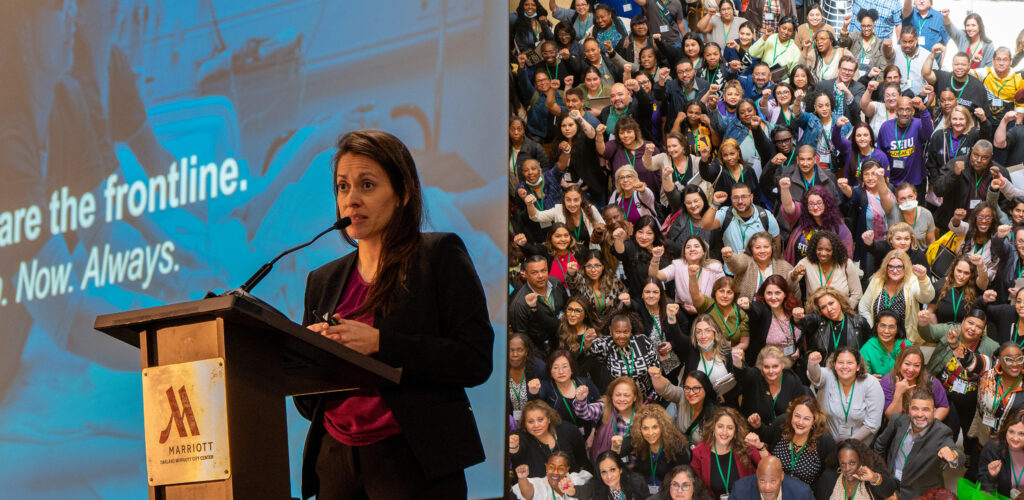 In response, CEO Greg Adams joined the convention via Zoom, and delivered much of the same we've heard from management. Concerns over staffing, a rapidly changing industry, and the desire to work together and educate members on the economic realities of the company.
It's clear during the opening of bargaining that the foundation of the national partnership is broken, and the only way to fix it during this process is if we are able to reach an agreement that delivers industry-leading raises and improvements for healthcare workers across the organization.
The following two days of this first bargaining session will focus on discussing solutions to the staffing crisis. Stay tuned for more updates and actions in the days to follow.