Last year, we joined together and worked incredibly hard to elect a government that will work for us. That work has paid off in so many ways. We've seen critical federal funding to the state, stimulus checks, and a temporary expansion of the child tax credit, and all of these were supported by US Senator John Hickenlooper. Still, though, there is so much work that needs to be done.
Now, we have the opportunity to speak with Senator Hickenlooper directly about all that we've accomplished and all that he still needs to do to address the crises we face. Join us in an exclusive member town hall meeting with Senator Hickenlooper on Wednesday, July 7, from 6:30 to 7:15 PM.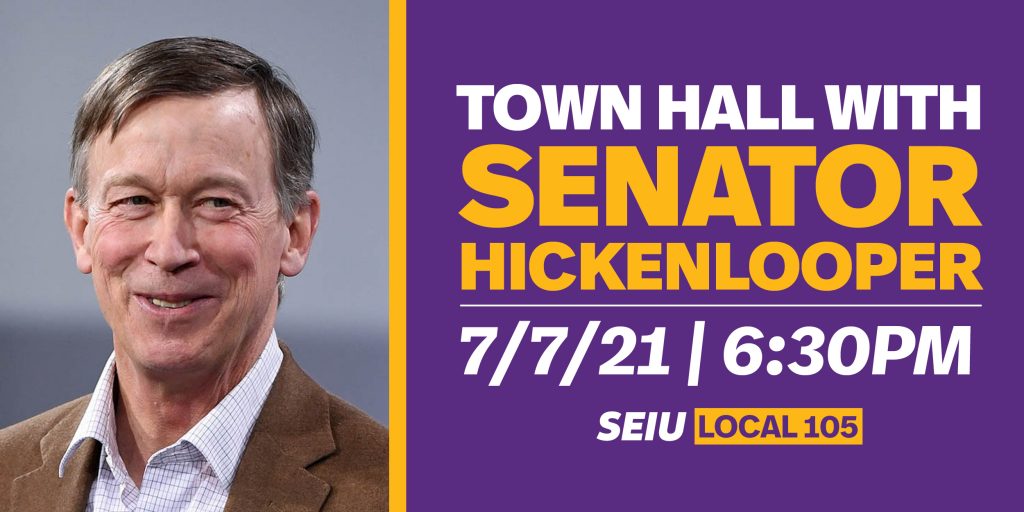 DATE: Wednesday, July 7th
TIME: 6:30 PM – 7:15 PM
LOCATION: Virtually via ZOOM
The President has put forward bold plans to create good jobs, raise the minimum wage, build infrastructure and transition to clean energy, improve homecare for people who are aging and have disabilities, and build back better. We'll be asking Senator Hickenlooper about his support for these plans, comprehensive immigration reform, and other key issues, and there'll be a chance for you to ask about what's of concern to you.
Sen. Hickenlooper needs to know that SEIU Local 105 members are watching, and we are counting on him to continue putting Colorado's working people first!