Join over two thousand of our Denver Janitors for a celebration, rally and march on international Justice for Janitors Day!
**If you need transportation to the action, meet us at the SEIU Local 105 office at 2525 West Alameda Ave at 10AM. We will have buses to take janitors and their families to the event and back.**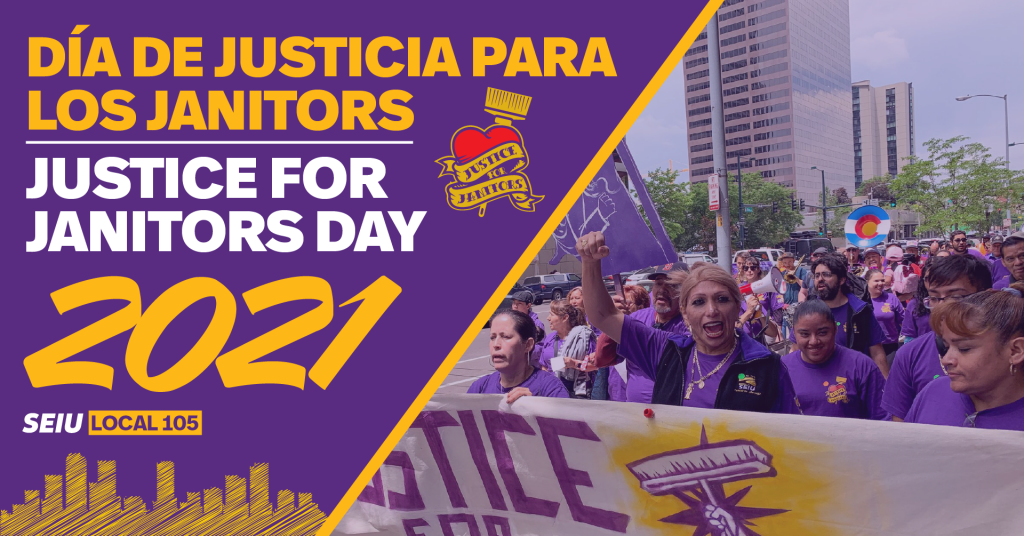 Over the past year, the COVID-19 pandemic has tested our community like never before. We have seen jobs lost, businesses close, and our loved ones taken from us too soon. While some have been able to stay distanced with their families while working from home, the essential worker janitors we all depend on have been working every day to keep our city safe, our workplaces sanitized, and our local economy running.
When: Tuesday, June 15th from 11AM – 1PM
Denver's janitors, a majority of whom are Latina immigrant women, have been risking their lives and the health and safety of their families to keep us all safe during the pandemic. For many of our city's janitors, they faced these risks without the proper PPE and protective materials needed to do their jobs. We depend on our local janitors to clean and sanitize the largest buildings in our city, so that we can feel safe to come back to work as we reopen.
Where: Skyline Park at the intersection of Arapahoe Street and 18th Street.
But some of our city's cleaning contractors have refused to acknowledge the sacrifices Denver janitors have made, respect their work, and honor the vital role they have played in keeping our city safe. Certain contractors have eroded standards, cut hours, neglected to provide sanitizing materials, and told janitors to clean spaces in a fraction of the time necessary to do the job right. When janitors are undervalued, underpaid, and under resourced, the strength of our economic recovery after this devastating pandemic is put into jeopardy.
What: Celebration, Rally and March
Now, over 2,400 janitors from across our city have a clear demand for those cleaning contractors as they go into negotiations for a fair contract: respect us, protect us, and pay us. Denver's janitors have been called essential workers and heroes throughout the pandemic. Now it's time to join together, like we have done in the past, to secure the benefits, resources and pandemic pay they deserve. Now is the time to invest on the most important resource we have – the people that make our buildings run.
We will pull through this pandemic by pulling through together. That means janitors must have a seat at the table with local leaders and industry as we develop how to safely return to work. By joining Denver janitors fighting to raise up dignity in all work we're making the way for a city where all of our families can live, work, and thrive.