Not all heroes wear capes. In our union they wear scrubs, security badges, carry brooms and disinfectant, serve food, care for our sick, assist passengers in wheelchairs, and keep us all safe on the frontlines of the COVID-19 crisis.
As the world continues to grapple with the effects of this global pandemic, it's the members of SEIU Local 105 who are leading the response in our communities and protecting our families. On behalf of our union, we continue to be proud to represent you and your courage during these difficult times.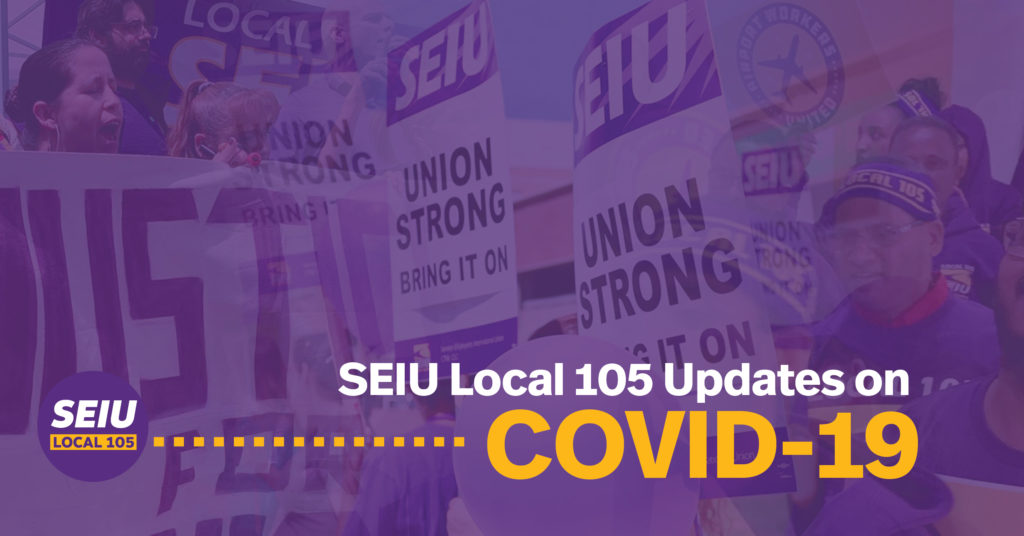 Our union remains steadfast in our advocacy for our members at all levels, from demanding better access to training and personal protective equipment to defending the wages and health safety of workers on the job. We're engaging daily with employers, local leaders, and organizations to address these issues and continue to provide resources for our members. To name just one example: janitors for one contractor were successful in avoiding the floors after a co-worker tested positive for COVID-19 until it was safe to re-enter those floors.
Just this past week we joined together with a coalition of over a dozen worker, faith, immigrant and community organizations across Colorado to demand our elected officials and corporations act with urgency to protect all workers, no matter their race or where they are from. Click here to watch the coverage with a quote from one of our local home care workers.
While we are standing strong and united in our efforts, we are also starting to see the impacts of this unprecedented health and economic crisis. At the airport and for our janitors across the metro area we are fighting against reductions in work hours and layoffs and making sure our member's rights in our union contracts are respected–as already hundreds of our members are being impacted.
For our healthcare and mental health members, this crisis has already led to shortages in personal protective equipment (PPE), while experts warn we still have not reached a peak of cases. In response, we have joined our national SEIU union in a campaign to raise public awareness and force our government to step up immediately to provide the PPE that workers need.
We are continuing our demands that employers provide the necessary items and training for protection and for employees who are laid off to receive extended pay and healthcare benefits. We will continue to keep members updated as employers respond to these demands. We also encourage all members to raise issues with your Steward, your Organizer or by calling these dedicated hotlines:
Airport Member Line 303-727-8074
Healthcare Member Line 303-727-8018
Property Service Member Line 303-727-8066
Our union has also created a daily updated COVID-19 resource page for members. Visit our website at seiu105.org for more resources by industry, childcare and food assistance resources, unemployment insurance tools, information on our state and local stay at home orders, and much more.
While we all continue to do our part during this crisis, here are the ways that you can take action TODAY in support of members across our union–and all working people. Click on the following to:
Just in the last few days, we received notification that the first of our members at the airport has been diagnosed with COVID-19. We will keep all affected people–both in and outside of the SEIU family–in our prayers and thoughts for a healthy recovery and our condolences and sympathies to all those who have been and will be, lost to this pandemic.
We will get through this crisis together. Our union will keep fighting. We will show the world that the union value of solidarity–that we are all connected–is more true now than ever.
In Unity,
Ron Ruggiero
President
SEIU Local 105