Did you miss our first ever LIVE @ 105 event last night? Use the buttons below to watch the event on Youtube or Facebook:
In case you missed it, we have a recap! Our first Live @ 105 event was an hour filled with union solidarity and breaking labor news, updates from campaigns across our union, celebrations, and Q&As. Here are some of the details:
---
Healthcare
First, we heard updates from our units at Kaiser Permanente and WellPower, who are both gearing up up for a hard bargaining fight in the coming months. We listened as they reported stories of readiness and solidarity from our membership, and we watched as comments came in from healthcare workers declaring that they're STRIKE READY!
---
Property Services
Next, we heard from our janitors, and got a special report on the groundbreaking new Green Janitorial Education Program happening right here in Denver, and led by our union strong janitors! Together, they're leading the way in making our buildings, and our city, more sustainable and environmentally friendly. Click here to learn more about the program.
---
Colorado Care Workers Unite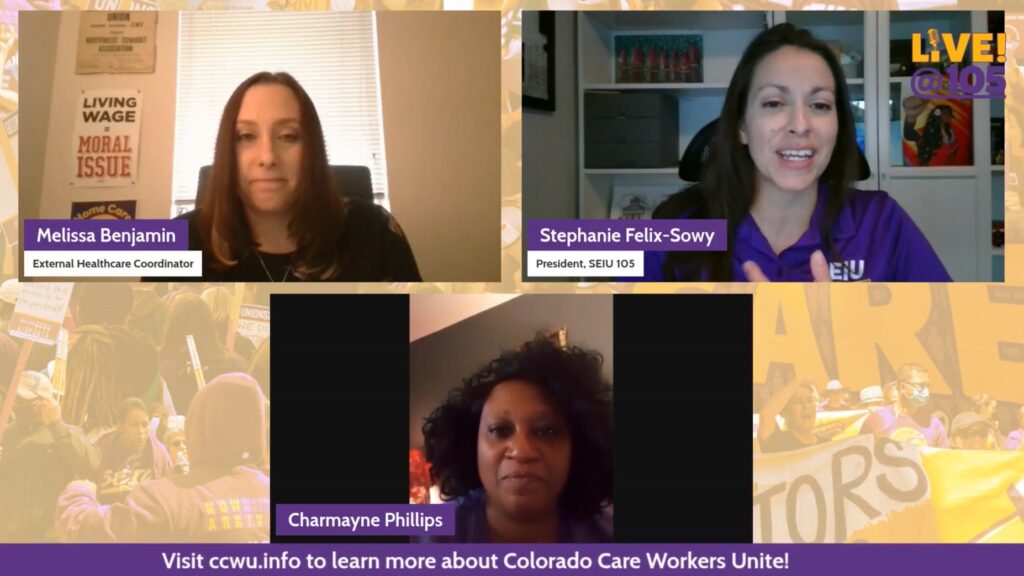 Together, we celebrated with our care workers at Colorado Care Workers Unite (CCWU), who just won a historic victory as they passed their landmark bill, the Direct Care Workforce Stabilization Board, through the Colorado General Assembly! Our care workers are fighting hard for better jobs, and to make their industry better for caregivers and those that receive care!
---
Airport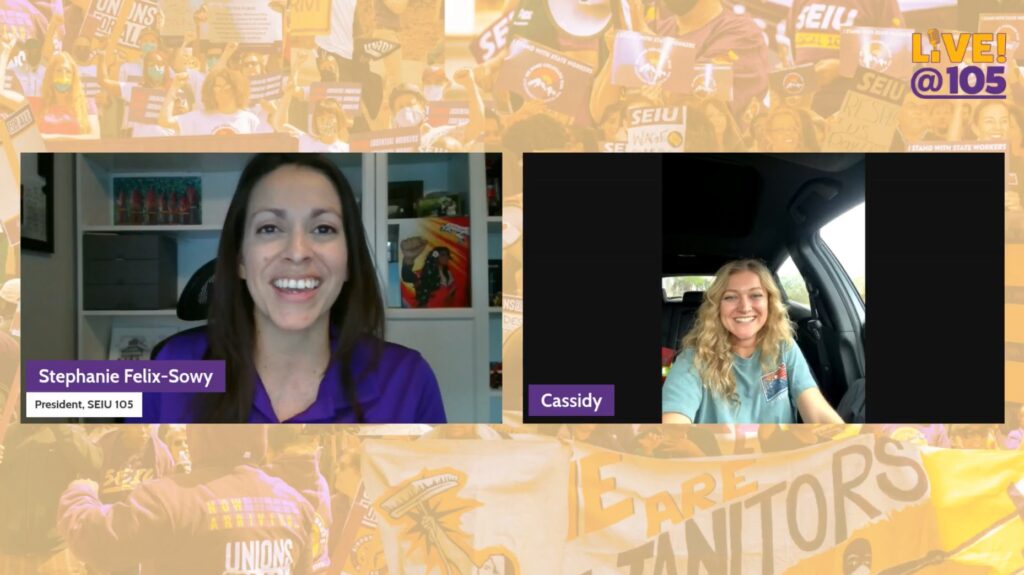 Finally, we heard stories from the organizing campaign happening now at Denver International Airport, where Swissport workers are standing up for a safer workplace and fighting hard for a union! These workers spend hours every day loading and unloading the cargo that eventually makes its way to folks across Colorado, and we heard directly how they're organizing to make their jobs better and safer!
---
We heard all of this, and so much more! If you missed out on the live stream, we'd highly recommend taking the time to watch the video to hear all of these powerful stories, as well as comments and questions from across Local 105.
Thank you to all who tuned in and submitted questions, comments, and stories. Together, we showed the power and diversity of our union, and we're looking forward to all the fights and victories ahead!
This was the first of many Live @ 105 events, so we can't wait to see you at the next one!