As many of you know, our president for the past nine years, Ron Ruggiero, resigned last month to be with his family in Oregon. In the weeks following his departure, your SEIU Local 105 Executive Board has met multiple times to discuss and oversee the transition in the leadership of our union. We have taken the time to hear the voices and concerns of our diverse membership, and our goal has been to be as thorough as possible to ensure that our union continues to grow and become stronger in the years to come.
We're excited and proud to announce that at our meeting on Thursday, May 12th, the board voted to appoint Stephanie Felix-Sowy as the next acting President of SEIU 105!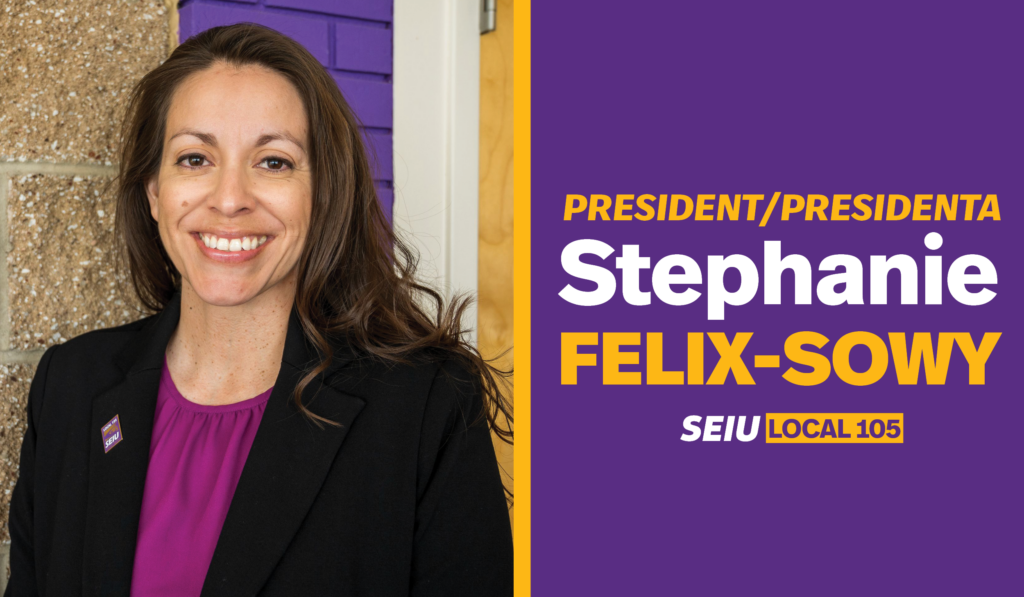 Stephanie, born and raised in Greeley, Colorado, is a proud Latina and an accomplished organizer. She brings 15 years of labor union and organizing experience to the Presidency and has worked here at Local 105 for the past seven years in her roles as External Healthcare Director and Deputy Director.
Stephanie has played critical roles in organizing home care workers in our state through Colorado Care Workers Unite. She was also instrumental in the historic victories of winning the first union for Planned Parenthood of the Rocky Mountains health care workers and a $15 minimum wage for airport workers, Denver residents and Colorado's caregivers. She's a smart, committed, and fierce leader that will serve us and the Colorado labor movement well.
Stephanie has been appointed to serve in this role until our next officer elections in August, when she will run for election for a full term. We're confident that Stephanie will be an excellent leader and representative of our union, and we're excited for you to get to know her.
United, let's continue to build on our victories as a union because when we fight, we win!
In Solidarity,
Shelly Fowlkes, Secretary Treasurer, SEIU Local 105
Pat Johnson-Gibson, Vice President, Healthcare, SEIU Local 105
Patricia Robles, Vice President, Property Services, SEIU Local 105