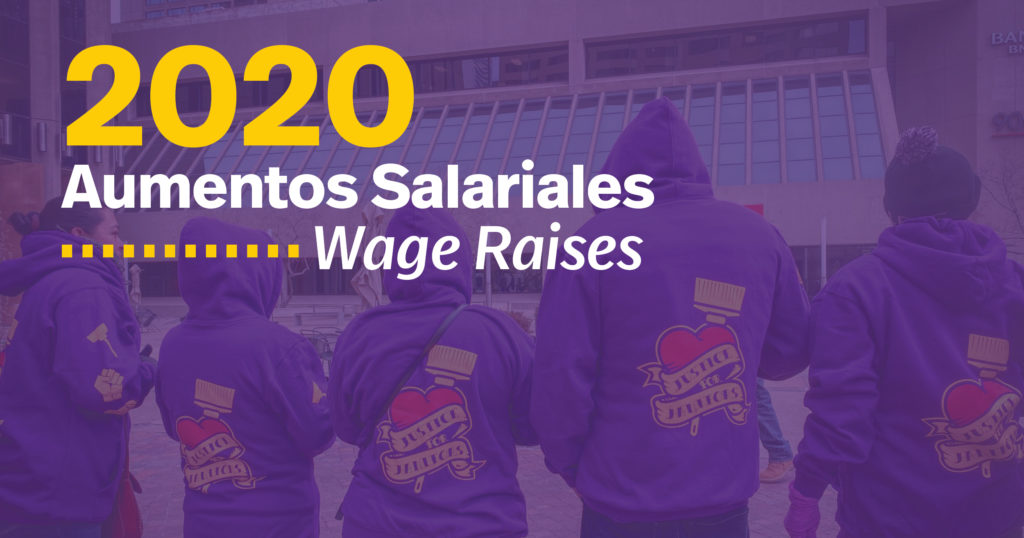 Congratulations, because you raised your voice at work, in your community, and in our political process, all property services workers across SEIU Local 105 are receiving a raise in their paychecks this year!
What made the difference?
Winning progressive wage raises in our recent contract negotiations.
Supporting the ballot initiative to raise Colorado's state minimum wage.
Electing a #UnionsForAll Denver City Council that passed a citywide minimum wage raise last year.
You can continue to make a difference in 2020 by joining the Committee On Political Education, COPE!
The only way we can fix this rigged economy for the wealthy is if working people fight to elect candidates who value, believe in, and will stand up for making it easier for all workers to join unions. Learn more here.
Scroll down to find your contract and review the updated wage scales for this year! If you find any issues with your paycheck, contact your steward or organizer!
Effective January 1st, 2020
Note, wages differ depending on whether if you work inside our outside of the city limits of Denver.
Downtown, Zones 1-4 Floaters
| | | |
| --- | --- | --- |
| Year | DENVER 2020 | Outside of Denver |
| Start | $13.25 | $12.50 |
| 1 | $13.25 | $12.55 |
| 2 | $13.25 | $12.65 |
| 3 | $15.00 | $15.00 |
Zones 5-8
| | | |
| --- | --- | --- |
| Years | DENVER 2020 | Outside of Denver |
| Start | $13.25 | $12.50 |
| 1 Year | $13.25 | $12.55 |
| 2 Years | $13.25 | $12.65 |
| 3 Years | $13.50 | $12.75 |
100K Square Feet or Less , Downtown & Zones 1-8
| | | |
| --- | --- | --- |
| Years | DENVER 2020 | Outside of Denver |
| Start | $13.25 | $12.50 |
| 1 Year | $13.25 | $12.55 |
| 2 Years | $13.25 | $12.65 |
| 3 Years | $13.50 | $12.75 |
All employees received a 10% increase effective Dec. 22nd, 2019
| | | |
| --- | --- | --- |
| Title | Seniority | 2020 |
| Armed 1 | < 1 Year | $18.83 |
| Armed 2 | 1-3 Years | $18.74 |
| Armed 3 | 3+ Years | $19.22 |
| Security Agent 1 | < 6 Months | $15.97 |
| Security Agent 2 | < 6 Months – 1 Year | $16.53 |
| Security Agent 3 | 1-3 Years | $16.96 |
| Security Agent 4 | 3+ Years | $17.03 |
| | |
| --- | --- |
| Job | 2020 |
| Building Service Worker | +3.5% |
| New Hire | $13.79 |
Effective January 1st, 2020
| | |
| --- | --- |
| Wage Increase | New Base Wage |
| $0.60 | $26.64 |
Effective April 1st, 2020
Security Officers and TQM
| | |
| --- | --- |
| Years | 2020 |
| Start | $15.91 |
| 1 Year | $16.13 |
| 2 Years | $16.34 |
| 3 Years | $16.55 |
| 4 Years | $16.76 |
| 5 Years | $16.97 |
| 10 Years | $17.19 |
| 15 Years | $17.40 |
| 20 Years | $17.61 |
Other Positions
| | |
| --- | --- |
| TQM Lead | $18.57 |
| AOB Receptionist | $18.57 |
| Acting Trainer | $ 17.77 |
| Acting Supervisor | $ 18.83 |
Food Service Workers / Janitors
| | | |
| --- | --- | --- |
| Year | 3/1/2020 | 9/1/2020 |
| Start | $13.05 | $13.50 |
| Year 1 | $13.55 | $14.00 |
| Year 2 | $14.05 | $14.50 |
| Year 3 | $14.55 | $15.00 |
Bartenders
| | | |
| --- | --- | --- |
| Year | 3/1/2020 | 9/1/2020 |
| Start | $12.88 | $13.33 |
| Year 1 | $13.38 | $13.83 |
| Year 2 | $13.63 | $14.08 |
| Year 3 | $13.63 | $15.08 |
Effective March 1st, 2020
| | |
| --- | --- |
| Year | 3/1/2020 |
| Start | $12.25 |
| Year 1 | $13.15 |
| 18 Months | $15.10 |
Effective September 15th, 2020
| | |
| --- | --- |
| Custodian I | $16.43 |
| Custodian II | $16.78 |